The Mission Services Department is made up of 43 Mission Services employees who provide over 78,000 hours of training to over 3,000 people in a year. We offer 10 Mission Services Programs including the training programs below and programs created to serve the specific needs of our community: Drivers Education, the Goodwill Greenhouse and the School Program. We partner with organizations like the Office of Vocational Rehabilitation to provide these programs. If you think you or someone you know could benefit from these programs you can contact us 814-371-2821 for more information or contact

OVR

directly.
---
Mission Services Job Training and Supported Employment Programs
Goodwill's Job Training and Supported Employment programs help individuals find and keep jobs.
Pre-Employment Services
PAID Work Experience
Students gain knowledge and skills through job experience found outside a traditional school setting.
Job Shadowing
Introduces students to various employers and their workplaces allowing them to observe employees on site performing tasks for that career choice.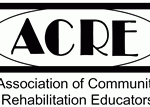 All of our employment specialists
and job coaches are ACRE Certified.
Other Services
Personal Work Adjustment Training
Gives individuals with little or no work experience an opportunity to learn basic work skills including following instructions, appropriate work behavior and good attendance habits.
Supported Employment
A comprehensive service which guides individuals through the entire job seeking process by helping them build resumes, fill out applications and prepare for interviews.
After the job is secured we provide direct support during the initial stages and offer continuous support throughout their employment. This ensures the employer and employees success.
Job Readiness Training
Training modules designed to encompass vital aspects of work readiness by awarding individuals with success in the workplace.
Intellectual and Development Disabilities Services
Community Participation Supports
This unique program is based out of our processing facility in Falls Creek. The program includes comprehensive evaluations designed to target areas for development giving insight into workplace barriers that may need adaptation or concentrated training. Individuals gain otherwise unavailable opportunities and work experience leading to higher levels of competitive employment.
Small Group Employment
This one-on-one program helps individuals learn the skills needed to maintain successful employment. Evaluations are utilized to identify areas for development, while encouraging further growth on the job site.
Monday Mission Minute: A weekly look at what we do!